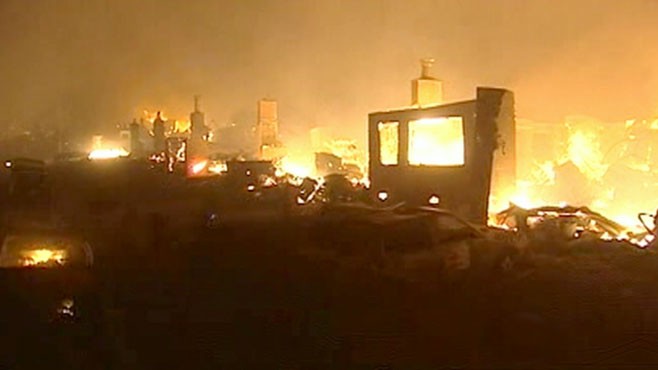 Known in short-hand as 'fracking,' natural gas fracturing involves the injection of water, sand and chemicals deep into the ground at high pressure. These injections blow open fissures in rock formations and allow natural gas to flow up the well.
Fracking wells found across the U.S. have been a boon of sorts to the natural gas industry many say. Colorado has many of these wells in operation as do other states around the U.S.
However, the practice does have its detractors who say it poses risks to public health, the environment and workers on the rig(s).
In 2008, the same year Colorado adopted disclosure rules for chemicals used in the 'fracking' process, a nurse in Durango fell gravely ill after treating a worker exposed to a chemical spill. Other injuries have been reported – most notably earlier this year at a fracking well in Pennsylvania where 3 people were killed in a chemical explosion.
Another explosion in Canada was the cause of the 13 injuries, one of them critical.
Aside from injured workers, many in Colorado and across the U.S. claim the injection of these chemicals contaminates groundwater and possibly leads to cancer.
Industry officials and regulators though claim the contrary. Regardless, Colorado does require well operators provide a list of the chemicals they use when regulators ask for it…these lists are not made public though.
Some wells in Colorado do participate in Frac Focus, a voluntary reporting system companies use to disclose the chemicals used in their 'fracking' operations.
Recently, the Colorado Oil and Gas Commission sought a review of how these activities should be regulated. Included in this independent review are environmentalists, industry leaders and state regulators.
David Neslin, executive director of the Colorado Oil and Gas Conservation Commission invited the independent review. Neslin though says "To date, we have identified no verified instance of hydraulic fracturing chemicals contaminating groundwater in Colorado. But I don't think that ends the discussion."
However, a recent investigative series in the New York Times claims the wastewater from fracking contains high levels of radioactivity and could potentially find its way into drinking water supplies. Another document produced by an EPA consultant concluded that some municipal wastewater systems were incapable of removing all of the contaminants found in the wastewater.
Regardless of these potential environmental impacts, handling chemicals can be quite dangerous. Workers injured from these operations in Colorado and elsewhere qualify to receive treatment and wage loss benefits for any injuries. Effects from the chemical exposure though can take years to reveal themselves.
If you've fallen ill due to chemical exposure or have been injured by an accident on-the-job at a fracking operation, we invite you to contact work injury attorneys in Denver at the Babcock Law Firm for a free consultation today.